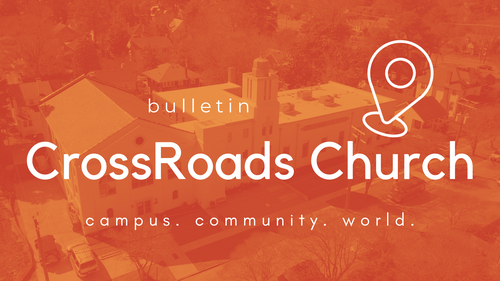 Songs Played Today:
Jesus Paid It All
Is He Worthy
Glory (Let There Be Peace)
Tremble
Our app and new website are live. You can download the app in the Apple or Google Play store by searching CrossRoads - Norfolk.
Meet your new digital discipleship resource. You now have free access to thousands of video Bible studies and supplemental materials for study individually and with groups of any size.
Click here for free access!
The purpose of a microsite is to provide space for to connect with God and each other by worshiping along with the main campus via livestream on Sunday Mornings. In our current situation as a church, microsites are an option for those of us that would prefer to meet in smaller groups in a home or in a communal space. Join a microsite
here
!
Fall/Winter Volunteer Sign-Up
Join one of our ministry teams to help serve our community on Sunday Mornings! Our goal is to have each volunteer serve once a month! You can sign-up after service or through our app! Contact
Stacie
with any questions!
Service Sunday Team:
3 volunteers needed each Sunday: Registration Desk, Parking, and Greeting.
Worship & Production:
10 Worship volunteers needed: vocal, keys, guitar, drums and bass.
4 Production volunteers needed: experienced (or trainable) sound, video, and photography positions.
Children's Ministry:
12 3s - 5th Grade volunteers needed: teaching, sound booth, and helping-hand.
5 Buddy volunteers needed: one-on-one buddy for the kids in the special needs ministry.
** 16 volunteers needed to open the Nursery: care for the infants and one year olds.
** 8 volunteers needed to open the 2s classroom: care for the 2 year olds and teach them a brief lesson.
Grab your family to see how we decked the street with lights, music, treats, photo booth and more! We will be having a Christmas Drive Thru on Sunday, December 13th from 5 - 7 pm! If you would like to help out and volunteer for the Christmas Dash
click here
!