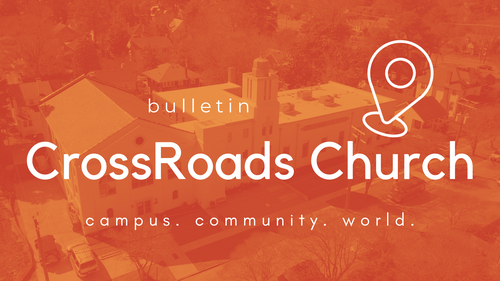 Songs Played Today:
God Is Good
Worthy Of Your Name
What A Beautiful Name
The Blessing
Our app and new website are live. You can download the app in the Apple or Google Play store by searching CrossRoads - Norfolk.
Meet your new digital discipleship resource. You now have free access to thousands of video Bible studies and supplemental materials for study individually and with groups of any size.
Click here for free access!
On Wednesdays at 4pm, we will be doing Prayer Walks in TWP through October 28th. We will meet at 4pm in the TPE parking lot. If you are interested in serving with the community at Tidewater Park Elementary,
click here!
Starting Wednesday, September 23rd at 6:30 pm and will go through the beginning of November. We will have modified versions Men's, Women's and Children's Bible Studies offered. Childcare will not be offered.
Click here to sign up!
The Women will be doing the Psalms: Prayers of the Heart
Eugene Peterson. Participants should order their own books prior to the first meeting. Books can be found on Amazon.com, ChristianBook.com, and IVPress.com.
There are three ways for you to join our Sunday Service: 1) Limited In-Person seating, 2) Microsites, or 3) online through Facebook Live/YouTube/App/Website
The purpose of a microsite is to provide space for to connect with God and each other by worshiping along with the main campus via livestream on Sunday Mornings. In our current situation as a church, microsites are an option for those of us that would prefer to meet in smaller groups in a home or in a communal space. Join a microsite
here
!
If you are interested in joining one of our new Life Groups
click here
!